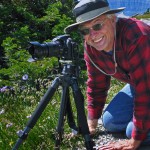 A friend asked me about using a zoom lens, so I collected a few shots that demonstrate effects I sometimes seek. Other than the obvious—increasing size when I can't get closer—there are a number of things a long lens does that can actually make it worth walking farther away from the subject.
(Note: Please click on the images below to see a larger size.)
The first is removal of extraneous things or empty space. I saw this valley from Hatcher Pass in Alaska, and wanted the two old Independence Mine buildings to frame it. From the walking trail at the park, a fairly wide zoom angle included both buildings, but also brought in tons of uninteresting sky and a distracting fence in the foreground. By hiking a couple hundred yards uphill, I was able to frame the same subjects with my lens zoomed to 120 mm (equivalent to 180 mm on a full-frame 35mm camera). Thus, without later cropping to a wide, panorama-type format, I was able to capture the buildings and still emphasize the valley in the distance.
I was struck by a tree growing from a boulder while on a hike at Peterson Bay across from Homer Alaska. I wanted the nearby trees to give a sense of scale, so, again, I walked a couple hundred yards away, and framed it at 170 mm (255 mm in 35mm equivalent) so that the image would contain the rock, the subject tree, and the framing trees instead of a bunch of sky and ground. Although it seems somewhat perverse, getting further away from the subject made it larger in the photograph. (Too bad I didn't focus it crisply, or it might have been a pretty good shot.)
A longer lens also can let me get rather intimate shots of people without being as intrusive. I had already chatted with Dean while he was waiting in line for breakfast at New Life United Methodist Church in my home town of Columbus Ohio. I learned that diabetes had taken his right leg and is threatening his left, and got his permission to take a picture. Nonetheless, I backed into the alley and shot at 120 mm (180mm in 35mm equivalent), thereby filling the frame with him without putting the camera right into his face. Maybe I should be bolder, but I don't take this type of photograph very frequently, so the "chicken" in me appreciated the distance—and hopefully helped Dean feel more at ease too.
Long lenses also tend to make the subject pop out by extreme blurring of the background. Although this is more pronounced in closeups, the effect can be useful for more distant shots as well.  Do you see how the blooming cactus at Bandelier National Monument in New Mexico floats before an indistinct field of color? Or how Jane, the soloist, pops out from the rest of the choir at a Villageaires concert at Rincon Country West RV Resort in Tucson? Both were taken at 200 mm (300 mm in 35 mm equivalent) with wide open aperture settings of f/2.8 and f/5.6 respectively.
Finally, although I seldom have reason to use it, long lenses also tend to compress distance, making far-away objects look much closer to those nearby. It is hard to believe that, while this little pond near Salmon Glacier above Hyder Alaska is only 10 feet from my lens, and the end of the green foliage is about 300 yards away, the mountain peaks in the background are at least 5 miles distant. The zoom lens tends to bring them all much closer together.
All of these variations show ways that a long lens is useful to highlight the focal point in an image. So, if you want to better isolate your subject and make it stand out more prominently, think about cranking out the zoom and moving to a place that frames what you really want in the picture.
Below are a few more images that tend to exhibit these effects.