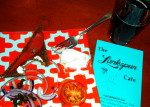 This year's Sitka Summer Music Festival is just getting underway, and although the first concert will be after our departure Saturday, we were treated to a wonderful preview tonight at the Larkspur Caffe. Having heard of this opportunity from some locals, we arrived early to be sure of a seat, and were pleasantly surprised by the wide variety of luscious treats on the menu. Fondue and lox appetizers, chowder, panini, and local Baranof Island Brewing Company Spruce Tips IPA and Dark Lagers were all excellent as we enjoyed conversation with other folks at our large table.
The real excitement began, however,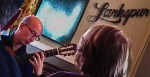 when David Leisner arrived with his guitar. A classical virtuoso and composer, he began with Bach and then thrilled us with one of his own pieces. Lute Suite #2 by Bach had his fingers flying in seemingly impossible directions that I scarcely tried to follow as I floated along on the music. Leisner then performed his Twilight Streams along with cellist and Artistic Director Zuill Bailey. They carried us through from sunset to sunrise with, as he explained, an interplay of light and dark in the Eastern philosophical tradition. Did I comprehend all that? Far from it, I'm afraid. However, I was mesmerized throughout. As I told David afterward, his performance tonight really opened my ears to classical music in a new way.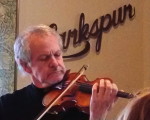 Gil Morgenstern rounded out this trifecta evening with two enthralling pieces. First was Riconoscenza per Goffredo Petrassi by Elliott Carter. Then followed the Minstrel movement from George Enescu's Impressions of Childhood. I admit to zero knowledge of classical music and very little prior exposure, but that's ok, because the lovely sounds that Gil produced did all the work and I simply floated along. Happily, I felt like I was carried to a better place for those few moments.
With only my cell phone for a camera the pictures are not the best, but I hope they convey a bit of the joyful time I experienced. Thanks to Larkspur Caffe, David, Gil, and Zuill for a truly delightful evening!